Skiing and Snowboarding from the Hotel
If you're heading to Denver in winter, chances are a ski trip is part of your itinerary. Colorado is a paradise for ski buffs, with 54 peaks over 4,200 meters – and a number of these are within easy day-tripping distance of Denver. Plan your trip to our hotel near Colorado ski resorts.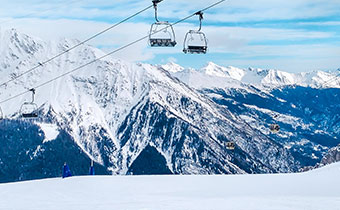 Echo Mountain
The closest ski area to the city if you're pressed for time. PRO TIP: Slopes are open until 9 pm Tuesday – Saturday*, which leaves plenty of time for guests here on business to mix in some pleasure too.
Summit Elevation: 10,650 feet
Skiable Acres: 226+ acres
Difficulty: 45% beginner, 45% intermediate, 10% advanced
*Not including Sundays and select holidays; park is closed on most Mondays
VIEW WEBSITE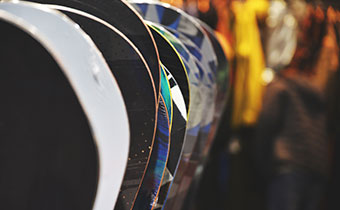 Other Nearby Mountains
Reachable in just under an hour and offering less expensive lift tickets than some of the more popular locales:
Loveland
Summit Elevation: 13,010 feet
Skiable Acres: 1,800 acres
Difficulty: 13% beginner, 41% intermediate, 46% advanced
Arapahoe Basin
Summit Elevation: 13,050 feet
Skiable Acres: 1,331 acres
Difficulty: 7% beginner, 22% intermediate, 45% advanced, 26% expert
VIEW WEBSITE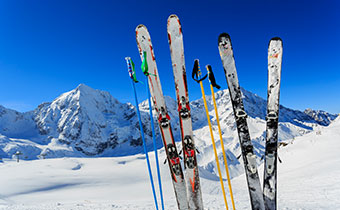 Winter Park Express
A double-decker Amtrak Superliner ski train that combines the area's rich railroad history and spectacular skiing. Enjoy exquisite views as you snake your way through the Rocky Mountains to some of the best advanced skiing terrain at Winter Park Resort.
Winter Park Resort
Summit Elevation: 12,060 feet
Skiable Acres: 3,081 acres
Difficulty: 8% beginner, 18% intermediate, 19% advanced, 52% most-difficult, 3% expert
VIEW WEBSITE
Colorado Ski Vacations
If you're able to go a little farther afield, checkout this must-ski-destinations that help make Colorado the number one destination for skiing in North America: