While things may be a bit quieter in the Theatre District right now, you can experience Night Lights Denver, a 16-block area of downtown Denver offering interactive, immersive and experimental art and culture events and experiences. A permanent way for The Denver Theatre District to support innovative artists with an experimental platform, this offers visitors a free, unique experience.
Downtown Denver's Theatre District is sure to satiate even the most discerning art critic's palates. Spanning 16-blocks downtown right off Kimpton Hotel Monaco's doorstop. Highlights include immersive art installations such as The Blue Trees and acclaimed performance venues like the The Buell Theatre, affectionately referred to as 'Broadway's home away from home'. Concerts, operas, musicals, and more! An abundance of options await your visit.
Make a night of it – stay at our hotel near Denver's beloved Theatre District, and let us wine and dine you before the show.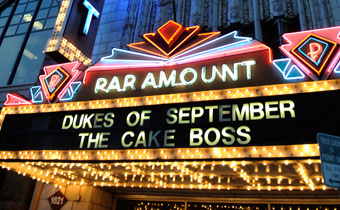 Paramount Theatre
With an ever changing line up offering a variety of concerts, comedy shows, classical performances and live podcasts, Paramount Theatre, located just 4 blocks from the hotel has a little something for everyone. Built in the 1930's the historic Art Deco design makes the venue even more of a must visit in Denver.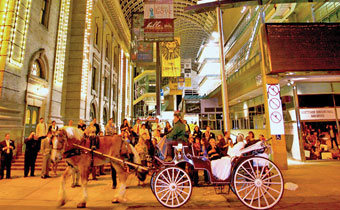 Denver Center for the Performing Arts
Just one mile from the hotel, take in a comedy, musical, drama or cabaret show. With multiple venues, including the 2,939 seat Buell Theatre that regularly features Broadway musicals straight from New York, there is no shortage of shows for whatever mood strikes.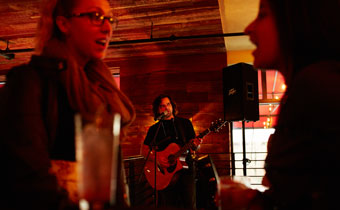 The Ogden Theatre
An intimate concert venue in Denver, The Ogden Theatre offers up a chance to experience performances in a memorable, one-of-a-kind way. Tickets to this hot spot are first come first serve and so is the seating. Grab a seat by the bar or stage and take it all in.