Private dining that's distinctive
Whether it's a business lunch, rehearsal dinner, intimate social gathering, or stunning wedding brunch, your private dining event at Panzano will be everything your taste buds dreamed of and more. Panzano also provides catering for meetings and events at Kimpton Hotel Monaco Denver.
For more information on private dining and catering options, please contact Victoria Noe via email at victoria.noe@panzano-denver.com or via phone at 303-294-3057.
Ignite Your Holiday Spirit
We have all the ingredients you need to plan the perfect party - inspiring spaces, food and cocktails, plus curated playlists. Book by January 31, 2018.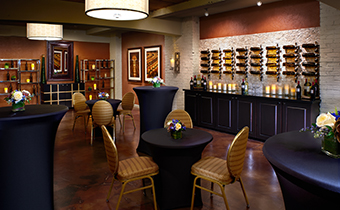 Wine Cellar
In a wine cellar atmosphere with modern rustic décor, dine among gold sheer drapes with large hanging mirrors, wine bottles, and candlelight. The Wine Cellar is perfect for a cocktail reception, an intimate rehearsal dinner, or a business meeting with ambience. With 740 square feet, the room can accommodate 60 at round tables, 80 for a reception, or a ceremony seating 70.
Paris Ballroom
The Paris Ballroom is a warm, rich, and intimate space featuring a romantic vibe with lower ceilings and European pillars. Featuring 2,220 square feet, the Paris Ballroom accommodates 180 for a sit-down dinner with a dance floor, 34 at one long table, and 250 for a reception with cocktail seating.
Toscana
Our most intimate dining space — surrounded by city lights, a working wine room, candlelight, and chandeliers — is perfect for a casual wedding dinner, rehearsal dinner, or post-wedding brunch. Featuring 415 square feet, the Toscana room can accommodate up to 20 for a sit-down dinner or 40 for a reception with cocktail seating.